RADUGA - Russian manufacturer of LED equipment
The production company "RADUGA – Technology of Light" is a Russian manufacturer of LED equipment with a 6-year warranty and production time from 10 days. Our focus is professional LED equipment for architectural, artistic, industrial, street, landscape gardening and dynamic lighting.

An innovative approach to production and constant quality control, talent of employees, responsibility to consumers ensure the consistently high quality of "RADUGA – Technology of Light" products.
The goal of our team is to make this world brighter using our high-quality design equipment!
300
The objects were realized on our equipment in Russia and the CIS.
500 k
Fixtures sold in 5 years
6 years
Warranty for the equipment we manufacture
The RADUGA brand appeared in 2014.
Due to the high demand for a reliable Russian manufacturer, a team of specialists decided to unite in order to create a legend - brand number 1 RADUGA.
10 days
Production time of our equipment
30
Cities where objects with our equipment are implemented
We develop and manufacture high quality LED equipment according to the customer's specifications.
Exclusive models that have no analogues in the Russian Federation. We use the latest technologies in the field of light.
We manufacture equipment
for architectural
and industrial lighting
With the use of our lamps, more than 300 objects have been implemented in Russia and the CIS
History of company
2014

A difficult year of sanctions for the Russian Federation.

In the wake of the increased demand for a good domestic manufacturer, a team of specialists created the RADUGA. At that time, our staff had consisted of only 7 people. United by a common idea – will become the best in Russia and abroad.



2015

The start was successful.

We successfully launched and began to form our product line – low voltage spotlights and linear profiles. All models were assembled in a small assembly shop. At that time, we had implemented projects with linear and accent lighting.



2016

We continue to actively expand our model range.

Added ground lighting, new spots and floodlights to the product catalog.
And also – pixel lighting.

2017

We produce heavy-duty fspotlights with a power of 100W and more.

Expanded the pixel ruler, added contour lighting. We are actively working on creating the production company «RADUGA – Technology of Light» catalog. It collected in himself models that solve any problems of architectural lighting.

From 2015 to 2017, the production company «RADUGA – Technology of Light» hardware warranty was 3 years.

2018

For the first time we are participating in the InterLight-2018 exhibition with our full-fledged catalog.


And according to the results of the exhibition, the production company «RADUGA – Technology of Light» becomes the winner of the prize for the «Best Stand!» By this time we are already developing our cases and boards, testing secondary optics and chemical compounds. Checking how the production company «RADUGA – Technology of Light» equipment behaves in extreme temperatures.

We are actively developing and launching a new product on the lighting market. We are expanding production. Taking the first steps in the field of industrial lighting.

Officially switched to a 5-year warranty expandable to 7 years. This decision was made due to the fact that we are confident in the quality of our products.

2019

Using the experience of all last year's developments, our specialists presented a new model of industrial lighting – RAD-PROM-Strada.

This was a completely domestic development, which uses LEDs from world brands Samsung and Cree.
The staff of RADUGA was more than 50 people and we continued to grow at a fast pace, improved and worked on ourselves. We constantly checked, collected analytics and got feedback.


2020

The fall in oil prices, the growth of the dollar and the resulting crisis did not affect our development - the production of products in Russia helped us avoid problems and fulfill our obligations to customers.

In March, we were preparing for a trip to Germany for the largest industry exhibition «Light + Building 2020». Especially for this event, we came up with a new «space» line of RADUGA LED lamps, but the pandemic made its own adjustments and we stayed in Moscow.
The focus of our attention was on business and shopping centers – one of the most vulnerable segments during the economic crisis.

2021

2020 pandemic left its mark, but did not affect the development and stability of our company.

Increasing the assortment and expanding the model range of the production company «RADUGA – Technology of Light» products thanks to domestic production has strengthened its position in the international market.
We analyzed the results of the last year in order not only to maintain a vigorous pace of project implementation, but also to improve our performance.
Team
Best specialists are working every day
improving our products and services.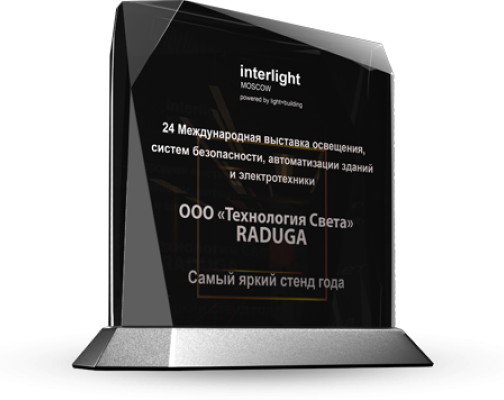 In 2018, at the InterLight-2018 exhibition, we won the "Best Stand" prize.
In addition, we presented a line of lamps made in the Russian Federation.
Reviews
News
Write to us